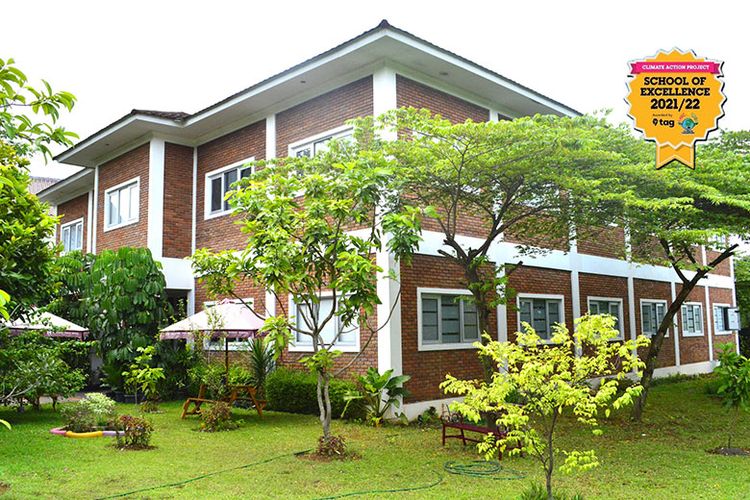 Millennia World School Jadi Sekolah Pertama di Asia Tenggara yang Menerima Penghargaan Climate Action Project
Categories

Blog

Date

April 1, 2022
Artikel ini telah tayang di Kompas.com dengan judul "Millennia World School Jadi Sekolah Pertama di Asia Tenggara yang Menerima Penghargaan Climate Action Project", Klik untuk baca: https://biz.kompas.com/read/2021/12/08/125707828/millennia-world-school-jadi-sekolah-pertama-di-asia-tenggara-yang-menerima.
KOMPAS.com – Millennia World School menerima penghargaan Climate Action Project School of Excellence.
Penghargaan tersebut diberikan kepada sekolah yang dinilai berhasil memberikan pendidikan tentang perubahan iklim (climate education). Sampai saat ini, hanya ada 250 sekolah di seluruh dunia yang mendapatkan penghargaan tersebut.
Millennia World School menjadi sekolah pertama di Indonesia dan Asia Tenggara, yang mendapat Climate Action Project School of Excellence.
Penghargaan tersebut diberikan oleh Cartoon Network dan Climate Action Project yang bekerja sama dengan World Wide Fund for Nature (WWF).
Climate Action Project merupakan proyek pendidikan global gratis yang diluncurkan oleh Take Action Global. Proyek tersebut bertujuan untuk membantu siswa belajar tentang krisis iklim dengan cara yang otentik. Sebagai informasi, Take Action Global merupakan lembaga non-profit berbasis pendidikan di Amerika Serikat (AS) yang melibatkan 2,7 juta guru dan siswa di 146 negara.
Sementara itu, penghargaan Climate Action Project School of Excellence diadakan untuk menginspirasi anak-anak di seluruh dunia untuk membuat perubahan besar bagi bumi.
Direktur Millennia World School Ibu Mahrukh Bashir mengatakan, sekolah yang masuk nominasi dalam penghargaan tersebut telah lolos seleksi dan memenuhi berbagai kriteria.
Kriteria tersebut adalah melakukan berbagai usaha penyelamatan bumi dan mendapatkan komitmen dari seluruh civitas sekolah untuk melakukan pendidikan tentang iklim. Selanjutnya, mencari solusi untuk mengatasi persoalan lingkungan hidup.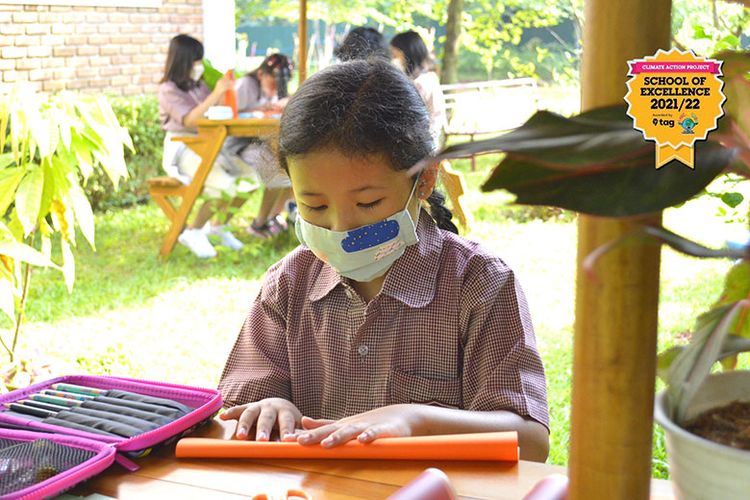 Millennia World School memiliki prinsip bahwa belajar tidak hanya sekadar membaca dan ujian, tetapi juga mengimplementasikan teori untuk menjadi pengalaman berharga," ujar Ibu Mahrukh Bashir dalam siaran pers yang diterima Kompas.com, Jumat (3/12/2021).
Melalui pengajaran yang mendalam dan bermakna, kata Mahrukh Bashir, peserta didik dapat mengembangkan dan memupuk kemampuan intelektual, emosional, serta fisik untuk menjadi pelopor dan pemimpin di masa depan.
Ia menambahkan, Climate Action menjadi salah satu program unggulan Millennia World School. Melalui program tersebut, sekolah yang berlokasi di Ciputat ini berkomitmen untuk menyediakan sarana bagi siswa, guru, dan staf berkampanye serta bekerja untuk mengurangi jejak karbon di masa depan.
"Kami bersemangat dan akan terus mendukung siswa dalam berinovasi serta mengambil tindakan untuk bumi kita," ujarnya.
Sekilas tentang Climate Action Project School of Excellence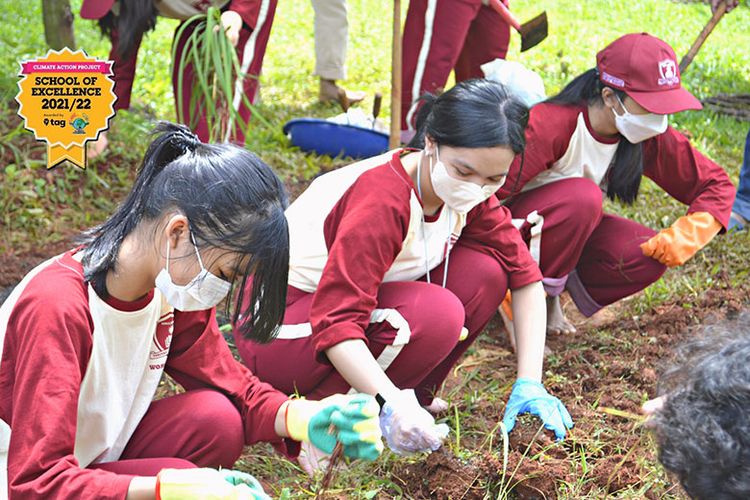 Sebagai informasi, pengunguman 250 sekolah yang terpilih sebagai "Climate Action Project School of Excellence" bertepatan dengan perayaan Climate Action Day, Kamis (4/11/2021).
Acara tahunan tersebut disiarkan langsung secara daring dan dihadiri oleh 250.000 orang di seluruh dunia.
Pemenang penghargaan tersebut diumumkan oleh Dan Russell dan dan Nandi Bushell. Russel dikenal sebagai pengisi suara karakter dalam serial populer di Cartoon Network, The Amazing World Gumball. Sementara, Nandi Bushell merupakan seorang musisi, influencer, serta pemerhati iklim.
Adapun pembicara pada forum tersebut adalah Pangeran William dari Inggris, Presiden Seychelles James Alix Michel, anggota National Aeronautics and Space Administration (NASA) Rick Davis, serta Education Manager WWF United Kingdom (UK) Matt Larsen-Daw.
Selanjutnya, Putri Esmeralda dari Belgia, Koordinator Program Pemuda di Program Lingkungan Perserikatan Bangsa Bangsa (PBB) Juan Pablo Celis Garcia, serta sejumlah tokoh lain di bidang lingkungan.
Direktur Eksekutif Take Action Global Jennifer Williams mengatakan, komunitas pendidikan harus bersama-sama mendukung program pendidikan Iklim.
Pihaknya berkomitmen untuk memastikan siswa memiliki akses guna menemukan informasi, ide, dan kesempatan dalam mengambil tindakan untuk planet.
"Sekolah yang masuk dalam kategori 'Schools of Excellence' akan memimpin jalan untuk mengatasi perubahan lklim di seluruh dunia," ujar Jennifer Sementara itu, Pangeran William mengatakan bahwa saat ini, dunia membutuhkan kreativitas anak muda untuk memperbaiki planet bumi.
"Kita butuh dukungan dan tindakan siswa untuk dapat berpikir dan berinovasi lebih jauh dan optimistis tentang masa depan kita," ujar Pangeran William.